Space Program News
I am posting this LATE because I just found it and you may be able to see the videos of all 3 webinars later.

China's Secret Space Program

3-Part Series on July 11, 18, 25. Sure glad President Trump foresaw the need for the U.S. to have its own Space Force! This is the U.S.'s Space Force Flag: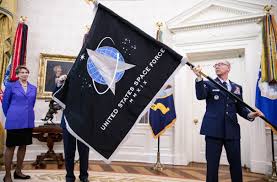 What was Revealed in Classified UFO Briefings to Congress & Pentagon?
By Dr. Michael Salla, August 1,2020
On July 23, the New York Times released an article describing classified UFO briefings delivered to the US Congress and the Pentagon by Dr. Eric Davis, a prominent astrophysicist, researching "out of the box" scientific phenomena since 1996. The authors of the New York Times story, Leslie Kean and Ralph Blumenthal, provided few details of the briefings other than Davis' sensational claim that UFOs (aka UAPs) involved "off-world vehicles not made on this earth".
The New York Times article was quickly picked up by other major media such as the Huffington Post, Popular Mechanics, and popular news sites that included Yahoo News. More recently, Scientific American called for a resumption of scientific studies on UFOs in a very telling sign that mainstream scientists are finally paying attention.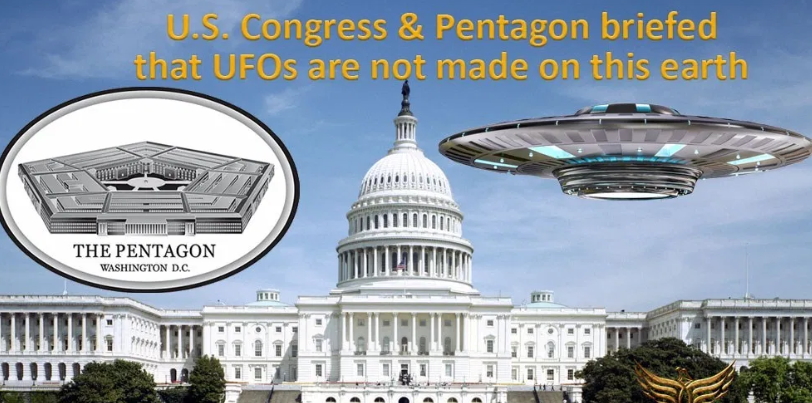 U.S. Congress & Pentagon briefed that UFOs are not made on this earth
By Dr. Michael Salla, July 24,2020
The New York Times has just released a bombshell article on classified UFO briefings received by members of U.S. Congress and Pentagon officials that the craft involved are "off-world vehicles not made on this earth". The New York Times (NYT) story cites Dr. Eric Davis, a physicist currently working with the Aerospace Corporation, who gave briefings that classified corporate studies were being conducted on the "off-world vehicles" recovered and held in corporate facilities.
The authors of the NYT story, Ralph Blumenthal and Leslie Kean wrote the following about Dr. Davis's groundbreaking briefings:
Mr. Davis, who now works for Aerospace Corporation, a defense contractor, said he gave a classified briefing to a Defense Department agency as recently as March about retrievals from "off-world vehicles not made on this earth."
Mr. Davis said he also gave classified briefings on retrievals of unexplained objects to staff members of the Senate Armed Services Committee on Oct. 21, 2019, and to staff members of the Senate Intelligence Committee two days later.
OUR ANCESTORS LIVED IN COMMUNITY WITH OUR GALACTIC BROTHERS/SISTERS
OUR GALACTIC FAMILY and THE BIBLE
Update by Dr. Salla for June 25, 2020
US Congress asks for UFO Report from Intel Community in 180 days
The US Senate Select Committee for Intelligence has just approved a bill that includes a request for the Intelligence Community to write up a comprehensive report on Unidentified Aerial Phenomena (UAPs, aka UFOs) in 180 days. Most importantly, the report will be unclassified, meaning that its findings are intended to be released to the general public.
The eventual Intelligence Community report is intended to be a comprehensive interagency breakdown and analysis of what's behind the UAP phenomena. Will the report turn out to be the official disclosure announcement that UFO activists have been working towards for decades, or will it become a limited hangout to hide the truth?
READ MORE: CLICK HERE
White Hats Taking Control Of Unacknowledged Programs, Secrets Will Be Revealed
Space Force and Official Disclosure of the USAF Secret Space Program
Edge of Wonder - A New Years' Special
Trump signs Space Force Act - Stage Set for Secret Space Program Disclosure
December 21, 2019
President Donald Trump signed the Space Force Act into law yesterday night. It was included in the omnibus 2020 National Defense Authorization Act (NDAA) funding Pentagon operations for another year, and officially creates a sixth branch of the military - US Space Force (USSF). Trump's signing sets the stage for some amazing disclosures of what the USAF has secretly deployed in space for decades.